For years I was subject to the "myth" that the shrouds of English and American ships (which I had dealt with) are usually left handed. Don't think that is correct. Left-hand laid is only cable laid rope and, as far as I read (Steel, Lees, Lever's, Brady etc.), such ropes were very rarely used as shrouds (even if only on very large ships). 
For shrouds usually used is ... why do you think it's called that? ... Shroud Laid rope. 4 strands with a core laid right.
********************************
*** Direction of lay & type of rope ***
********************************
Terminology/Wordings in German and English:
Trossenschlag
==
Z-Schlag
== Rechts geschlagen aus drei Duchten == Right Handed == Laid with the sun ==
Hawser Laid
Rope (until 1847) ==
Common Rope
==
Plain Rope
Kabelschlag == S-Schlag == Links geschlagen == Left Handed == Laid against the sun 
 (Right now it is imo unknown that a left handed "hawser laid" rope existed at all in "our" time period 1750-1830)
Kabe
l ==
S-Schlag
== Links geschlagen aus drei Trossen (Kardeele) ==
Kabelschlag
==
Cable Laid
Rope, Left Handed == Laid against the sun
Wantschlag
== 4 Duchten mit Seele rechts geschlagen (4 strands with a core laid right) ==
Z-Schlag == 
Vierschäftiges Tau ==
Shroud Laid
== Laid with the sun 
Since about 1847 wording changed
Hawser Laid
and
Cable Laid
are
the same
(William Brady, The Kedge Anchor, 1852 (1847)
Former
Hawser Laid
is now
"Common Rope"
or
"Plain Rope"
(Kipping, Rudimentary Treatise on Masting, Mast-Making, and Rigging of Ships, 1921, S.70)
Sources:  Steel, "Young Sea Officer's Sheet Anchor" / Schrage / etc.
===================
Cites:
Rope.—Ropes are of three kinds; three-strand, four-strand, and cable-laid. A number of yarns twisted together forms & strand. Three-strand rope (see Fig. 212) is laid right-handed, or with the sun (sometimes termed hawser-laid). Four-strand rope (see Fig. 213) is also laid with the sun (sometimes termed strand-laid). Four-Strand rope is usually used for sheets and shrouds, pennants, and generally for standing rigging. All rope comes under the general term of cordage. Cable-laid rope (see Fig. 214) oonsists of three "three-strand" right-hand laid ropes laid up together into one; these ropes are laid left-handed against the sun. Right-hand laid rope must be coiled with the sun; cable-laid rope is coiled against the sun.
Quelle: https://www.boatbuilding.xyz/boatbuildin...e/n-n.html
===================
"With the Sun, or with the Sun's shadow, is clockwise."
"But the description depends on which part of the process you are talking about. If you are holding a handful of fibers, facing a crank, and the crank is turning clockwise (to the right), the bundle will get a Z twist, as shown in Figure 2.7 (left), above. If, on the other hand, the hook is stationary, and you are twisting the bundle of fibers clockwise (to the right) with your hand, the fibers get an S twist. You do not have to look very far to find a Z twist described as right twist, and left twist, and clockwise and anticlockwise. [495]
Older texts talk of ropes laid "with the Sun". The Sun rises in the East and sets in the West, and its shadow on a sundial travels West to East. Clocks were designed so the hour hand mimics the motion of the gnomon's shadow. With the Sun, or with the Sun's shadow, is clockwise. But as just noted, clockwise can have two meanings when twisting fibers.
Shakespeare (1564 – 1616) mentions clocks frequently in his plays but the fact is, in the American Colonies, in the late 1700s, clocks were still fairly rare. According to the Oxford English dictionary, the word "clockwise" did not exist until after 1800.
If you said the word "clock", to a Scottish immigrant in the 18th Century, you would be understood to be talking about a "cloak", or the noise a chicken makes - "cluck", or one of several large beetles. [260]
So if you are holding the loose ends of the fibers and want an S twisted yarn, then the crank has to turn counter clockwise, from your point of view.
But if you are giving instructions to the person turning the crank, you have to reverse your instructions since they are facing the crank from the other direction. From their perspective, they have to turn the crank clockwise.
Unless the crank they are turning is driving the hooks with gears.
But that depends on how the gears are arranged....
It is easier to just show your cranker which direction to crank by making big hand circles."
Quelle: http://bkeithropemaker.com/Rope_Chapt_2.html
And then the Americans started to mix things ..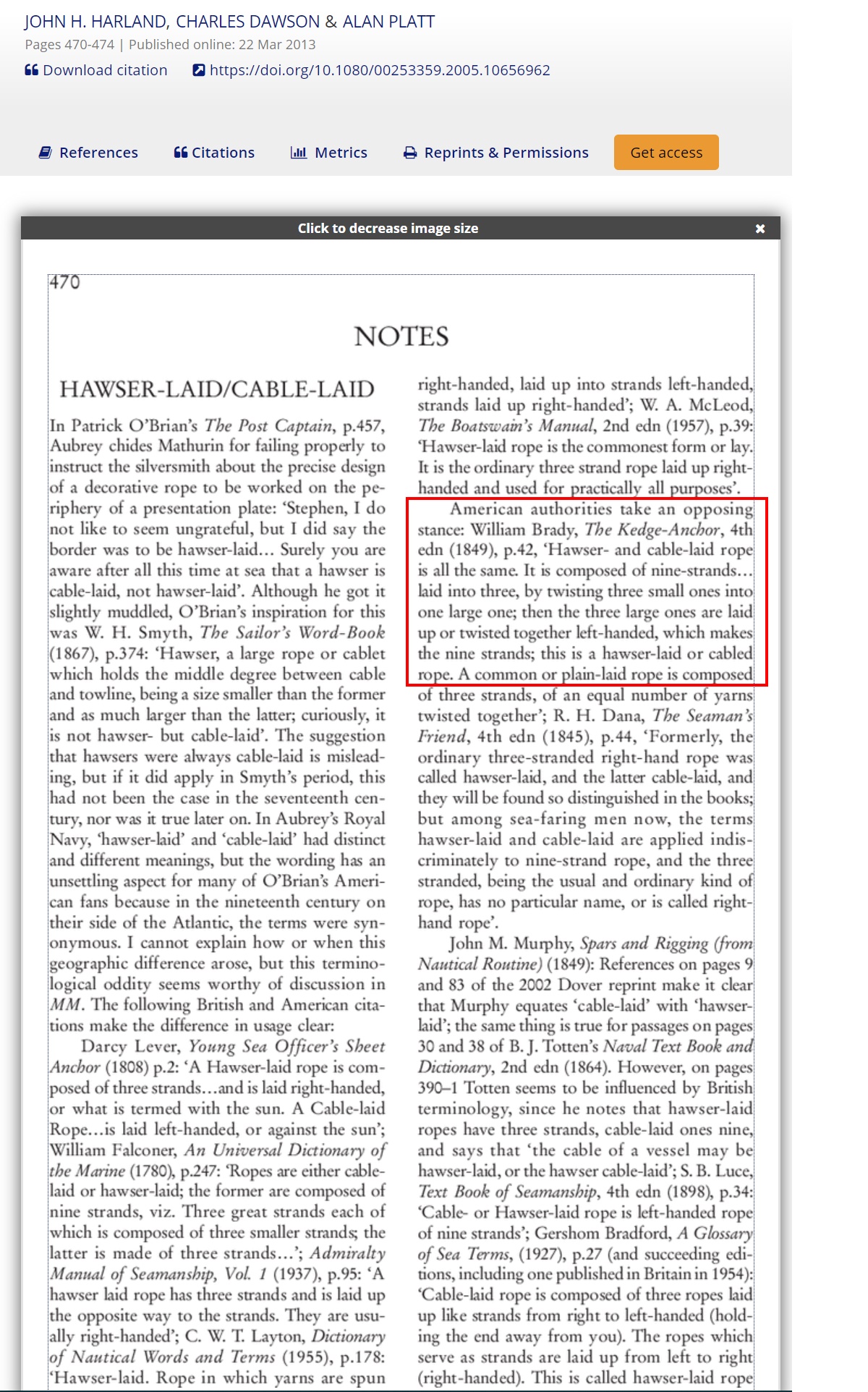 Quelle: The Mariner's Mirror - Volume 91, 2005 - Issue 3 - https://www.tandfonline.com/doi/abs/10.1...ode=rmir20