1:48 Hayling Hoy 1760 - Modelship Dockyard
Company:
Modelship Dockyard
Kit No:
 -
R
etail Price:
$290.00 incl. shipping
Available here:
https://drydockmodelsandparts.com/collec...ayling-hoy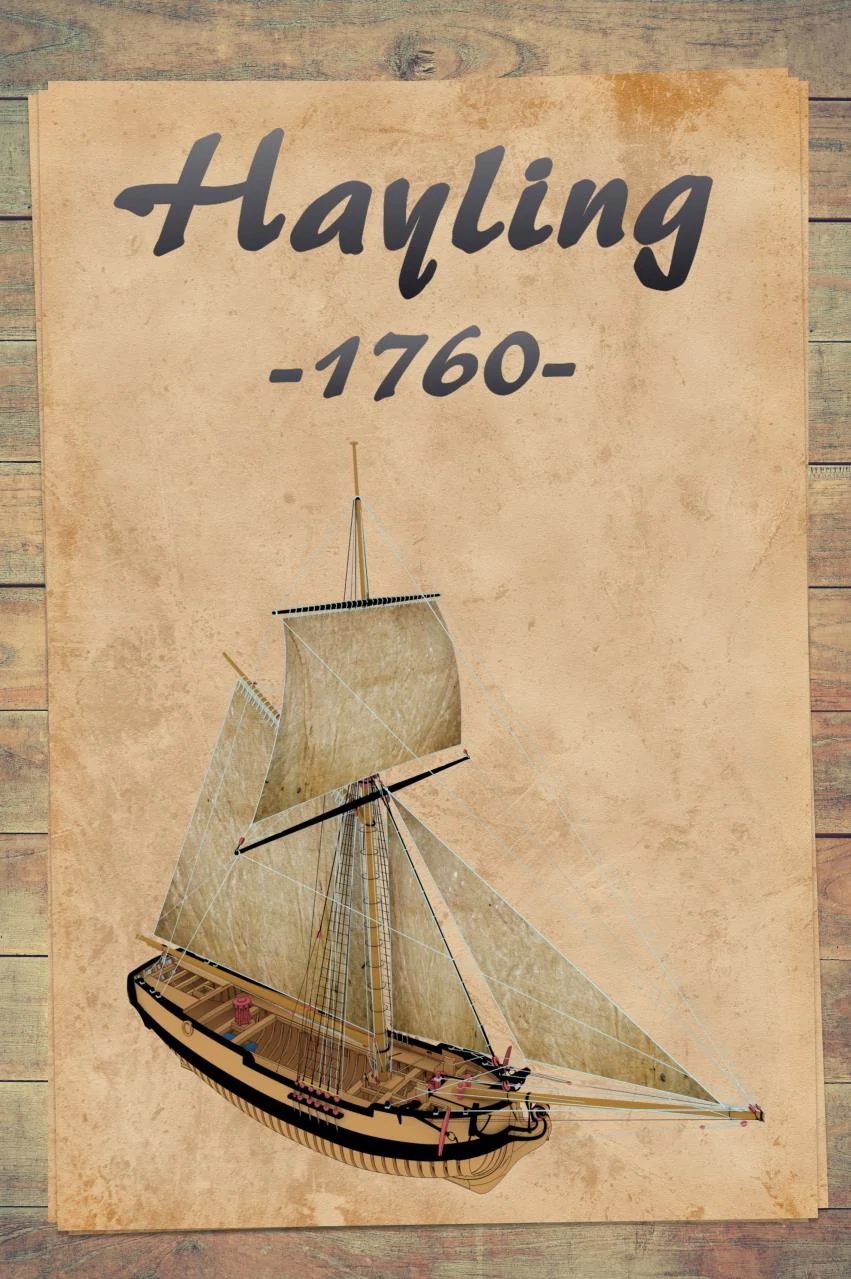 Description
Hoy is a relatively small offshore sailing ship. Most of these ships are single-masted and weigh about 20-70 tons. Most of them were sloop rigged and the mainsail could be fitted with or without a boom. These ships were favored by merchants and the Royal Navy and were used for various jobs. Some were specially built to transport fresh water, gunpowder, or ballast. Others are used for tax services, or for laying buoys or measuring work. Of course, the most common job is to transport passengers and goods. These ships are like taxis. Passengers on the shore can shout "ahoy there!" to stop these ships, so the ship type "Hoy" is also named.
We used the high-resolution scanned drawings preserved by the National Maritime Museum as the base of design to ensure the accuracy of the kit. Combined with dozens of relevant ship type drawings, a large number of books, and relevant models, we were able to restore most of the details of the ship.
As a 66-foot flat hoy, Hayling is one of the larger ships of its kind. The ship was built in a small shipyard near the famous Portsmouth Harbour in Britain. The ship's name Hayling also comes from Hayling Island next to Portsmouth Harbour. It is mainly used to transport timber between ports so it has a hatch.
Technical data
Scale: 1:48

Length Overall: 675.5mm

Height Overall: 653mm

Width Overall: 341mm

Width of Hull (only): 135mm

Length of Hull (only): 488mm)

Level: Intermediate to Advanced

Kit content
4 x Sheets of lasercut plywood for the building Jig

1 x Sheet of 6mm lasercut pearwood

1 x Sheet of 5mm lasercut pearwood

4 x Sheet of 4mm lasercut pearwood

3 x Sheet of 3mm lasercut pearwood

3 x Sheet of 2mm lasercut pearwood

4 x Sheet of 1mm lasercut pearwood

Various dowels for masts made from cherry wood

Various Rope 

High-quality pearwood rigging blocks

Pre-sewn sails

All parts of the kit are stored safely and tidily in the box. 
The wood package - Sheets A-P
Let's look deeper at this kit and start with the perfectly lasered plywood for the building Jig.
Starting with the thicker pearwood sheet A, B and more
The 4 mm pearwood sheets C-F
The 3 mm pearwood sheets G-I
The 2 mm pearwood sheets J-L
The 1 mm pearwood sheets M-P
For the masts very nice dowels made of cherry. The quality of the wood is excellent. Sharp edges, no splinter. 
The yards are lasered and made from pearwood
The small parts come in a separate box.
USB-Stick with the manual in Chinese and English, some images and some plans in pdf

Brass Wire

Premium Quality Pear Blocks

3D printed parts: Stove, Windlass & anchors (would have been nicer to print them in black resin imo)

Some glas for the cabin

A Nameplate

Some pearwood lasered planks

And "rope" (The rope is to be honest not very good)

The Rope
The Blocks
Check here for a review: https://forum.dubz-modelling-world.com/thread-43.html
The Nameplate
The 3D printed Stove
The kit also includes some photo etch parts. These are perfectly etched and from high quality
You even get pre-sewn sails
And the printed frames and some
cardboard
 jigs.
Conclusion
It is a highly interesting kit of an unusual smaller ship with mostly high quality materials for an incredibly reasonable price of $298.00.
Basically a 100% buy recommendation
but with a few drawbacks I need to mention.
Pro
Pear Wood, lots of it!

Building Jig

Unusual Vessel

Cherry Dowels

Scale 1:48

Premium Blocks

Pre-sewn sails

High Quality Photo Etch sheet

Super Support Service by Modelship Dockyard

Contra
No full-size printed (rigging/complete) plan of the kit

No plan at all ... just the keel.

Very brief instructions

Pick list is missing

No printed image of the ship in or on the kits box

Too much simplifying in my opinion e.g. missing structural parts like floor and futtock riders

The rope

Sandwiched deck beams, I know it is easier to build for the beginner but it looks wrong especially when the wood has color differences

For anyone who wants to build this ship, the great book by David Antscherl is recommended. A wonderful basis for this type of ship which will certainly answer open questions of the rather scarce manual. Hayling Hoy of 1759 - A Fully Framed Building Project by David Antscherl - SeaWatchBooks, Review here:
https://forum.dubz-modelling-world.com/thread-47.html
Check out the Instruction Manuals and files here:
https://drive.google.com/drive/folders/1...sp=sharing
My sincere thanks go to Modelship Dockyard for sending this kit for review here on Dubz Modelling World.
To get this kit go to Dry-Dock Models & Parts:
https://drydockmodelsandparts.com/collec...ayling-hoy